Landrace by Nucléus
Combination of working comfort and results
To achieve performances and quality management
Innovative selection of maternal qualities (genomic)
Piglet quality
High sanitary status
Our selection is the best compromise between production and reproduction criteria. Each piglet born alive must be weaned.
KEY POINTS
14,0 piglets
born ALIVE
12,2 piglets
WEANED
PROUCTION FARM RESULTS
+ 1,2 piglets
weaned over 4 years
150 days
of life at 100 kg
DATA
1000 sows in selection in Landrace
Genomic selection program in collaboration with IFIP and INRA
Results of mothers of boars present in AIC
| | |
| --- | --- |
| | LR by Nucléus |
| Average parity | 4,1 |
| Born alive | 15,4 |
| Weaned | 13,5 |
Results of Landrace gilts By Nucléus :

> 1.4 kg birth weight of piglets
> 16 functional teats
> 3230 kg live weight produced/sow/year
> 2.29 FCR (18-105 kg)
SANITARY STATUS
Breeding farms with air filtration systems. Each farm is regularly controlled for major diseases in order to deliver the healthiest animals : free of Mycoplasma hyopneumoniae, Actinobacillus pleuropneumoniae, Atrophicans Rhinitis, PRRS.

Why choose the breed Landrace by Nucléus as the gilt for the renewing of your farm ?
Introduced in France in 1930s, the Landrace pig breed has many advantages for you who want to get an optimal breeding comfort and to have guaranteed results on the long term. What are its genetic strengths ? Why the maternal line Landrace is the ideal whatever are your breeding conditions ?
Maternal qualities and numerical productivity : two strengths of the sow Landrace by Nucléus
Sows issued from this pig breed reach their sexual maturity very quickly and are characterized by a very long life. Their prolificity is no longer to be demonstrated and the breed also has very good growth performance (100 kg to 150 days). Moreover, the Landrace breed is currently the second French breed in terms of numbers thanks to its ease to give birth.
Landrace by Nucleus sows are known for their excellent maternal qualities.These are reinforced by the implementation of a genomic selection program on litter size, in collaboration with INRA.Genomic selection allows the reliable evaluation of low heritable criteria and above all allows to generate a high surplus-value in breeding.
The Landrace sow is often crossed with the Large White breed (another breed of high reproductive yield sows) whose female lines are also recognized for the quality of their litters (vigour and weight of the piglets at birth).These hybrid sows have very high numerical productivity (15 piglets/litter and 13 weaned). The annual gain in weaned piglets/sows/year is estimated at +1 on average! Note that Landrace piglets are heavier at weaning.
Landrace sow and health advantages
Management of the health of sows is also one of the main considerations of breeders. The advantage of the Landrace sow is that it is certified high sanitary level. So you can use this female line serenely.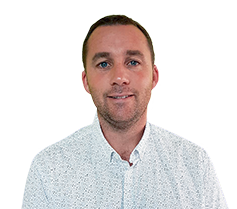 The opinion of a farmer
In 2012, NUCLEUS decided to increase and improve its Landrace GGP base and the Landrace breeding goal was revised (with the start of a genomic program). I fully supported the project and achieved the goals I had to reach. My breeding farm has increased of 2.5 piglets weaned /sow / year. I supply to multiplication farms with GP Landrace gilts with exceptional performances.
N. Massiot - SCEA des Fontaines - GGP Landrace Breeder