Artificial insemination
Nucléus works with many artificial insemination centers in France and in different foreign countries.
Nucléus boars are presented in many AIC in France and abroad, mentioned below :
In France :
Agrogènes - 64460 Bentayou-Serée

CIA de Quefferon - 22400 Maroué

CIA du Perche - 28330 Les Etilleux

INPIG - 64230 Denguin

Gènes Diffusion - 59501 Douai

LB-CIA - 53210 Argentré

Porcigènes - 81400 Blaye-les-mines

Yxia - 35590 Saint Gilles
Abroad :
Semen Cardona - Espagne

Semen Costean - Espagne

Genefarm - Espagne

Comaporc - Espagne

CIA Cinco Vilas - Espagne

AIM Ciala - Portugal

Ente Lombardo - Italie

KI Vansteenlandt - Belgique

FCN KI - Pays-Bas
The 1st of June 2018, Nucléus owns :
160

GGP and GP Large Wihte and Landrace by Nucléus

850 Terminal boars Pietrain by Nucléus

150

Terminal boars Vigor by Nucléus

50

Terminal boars Duroc by Nucléus
Nucléus strategy is to renew 110% of GGP and GP boars every year. On our breeding farms and also at our partners, Nucléus applies a very strict variability policy, using genomic tools.
The only 2% best GGP and GP boars ( Large White and Landrace by Nucléus) are selected to entered on AIC.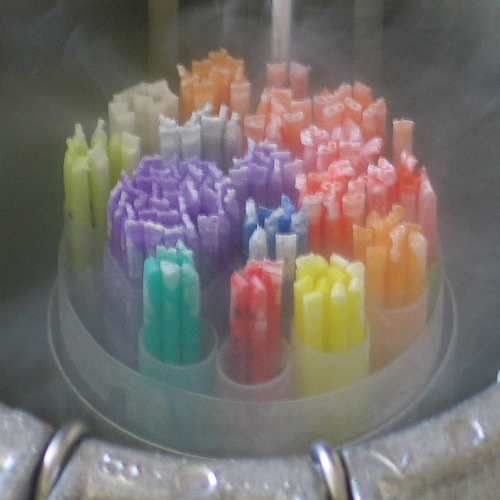 Large-White by Nucléus
Genetic Values

Career of the mothers

Prod

NV

QMAT

GLO

Nb MB

NTOT

NV

Sevrés

NUCLEUS

109

1.45

139

135

4

18.2

17.0

15.1
Landrace by Nucléus
Genetic Values

Career of the mother

Prod

NV

QMAT

GLO

Nb MB

NTOT

NV

Sevrés

NUCLEUS

120

1.3

141

144

3.9

16.8

15.5

13.6
Prod : Combination FCR, Technological yield, Age at 100 kg and meat quality
QMAT : Combination Born alive, Piglet birthweight and homogeneity of piglet birthweight in the litter
GLO : Combination of all the criteria of breeding goals
NTOT : Total born
BA : Born alive
| | | | | | | |
| --- | --- | --- | --- | --- | --- | --- |
| Verrats NUCLEUS | Nb | A 100 | L100 | X100 | IND | IC |
| Piétrain by NUCLEUS | 810 | 128 | 7.3 | 70 | 126 | 2.24 |
| VIGOR by NUCLEUS | 106 | 129 | 7.4 | 67 | 132 | |
A100 : Age at 100 kg ajusted
L100 : Backfat at 100 kg ajusted
X100 : Muscle et 100 kg ajusted
IND : Global Index (Growing - Back fat and Muscle with average at 100 and std of 20 points)
FCR : FCR ajusted on period 30-115 kg for 300 animals