Large White by Nucléus
Serenity in daily work for durable performances
To achieve performances and management easiness
Innovative selection of maternal qualities (genomic)
Kg meat produced kg / sow / year
High sanitary status
Our selection is the best compromise between production and reproduction criteria. Each piglet born must be weaned.
KEY POINTS
15,0 piglets
born ALIVE
13,0 piglets
WEANED
PROUCTION FARM RESULTS
+ 1,5 piglets
born alive over
4 years
148 days
of life at 100 kg
for tested males
DATA
1600 GGP sows in selection LW
Genomic selection program in collaboration with IFIP and INRA
Results of mothers of boars present in AIC
| | |
| --- | --- |
| | LW by Nucléus |
| Average parity | 3,8 |
| Born alive | 17,5 |
| Weaned | 14,8 |
Results of Large White gilts By Nucléus :

> 1,4 kg birth weight of piglets
> 16 good teats
> 3230 kg live weight produced/sow/year
> 2.29 FCR (18-105 kg)
SANITARY STATUS
Breeding farms with air filtration systems. Each farm is regularly controlled for major diseases in order to deliver the healthiest animals : free of Mycoplasma hyopneumoniae, Actinobacillus pleuropneumoniae, Atrophicans Rhinitis, PRRS.

Why choose the breed Large-White by Nucléus as the gilt for the renewing of your farm ?
Large-White pig is the one of the pig breeds the most solicited and exported. It's because of many advantages : an excellent prolificity, a great rate of growth, optimal Global FCR and an excellent meat quality...Large White Sow and its piglets also have a high resistance and adaptability that make it a genetic type that can be exploited under many rearing conditions. This is ideal for the good growth of a healthy and sustainable pig farm. Let's go through some of its benefits in detail.
Which are the selection criteria of a maternal line of Large-White breed ?
Where carcass criteria are the main factor in a male line , selection in female line is conditioned almost equally by maternal qualities (number of teats, piglets born alive, weaned piglets) and food efficiency (ADG, food conversion rate, etc).
Production performances of the gilt Large-White by Nucléus
The gilt Large-White by Nucléus has the following characteristics : 2.55 of Global FCR, 27,2 pigs produced/sow/year, 13 piglets weaned/litter.
Large-White gilt : the numerical productivity, a guarantee of security
A large quantity of meat produced is necessarily one of the main performance issues of a pig farm. With the gilt Large-White by Nucléus, this is 3230 kg live weight produced/sow/year.
At Nucléus, we select our female lines (as the landrace breed) based on their maternal and production capacities.
Litters with superior quality
The Large-white gilt gives robust, heavy and homogeneous piglets. The quality of the produced piglet is indisputable and this is the major asset of this maternal line.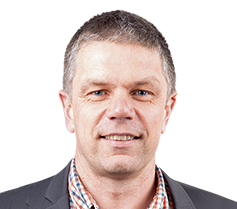 The opinion of a farmer
With NUCLEUS, we have developed innovative selection processes (i.e. homogeneity of piglet's birth weight…). We, the breeders, have changed our way of working (sow autonomy) according to the request from NUCLEUS. Results and progress are impressive. Multiplication farmers are very satisfi ed with GP sows they receive.
O. Bouchonneau - EARL Bouchonneau GGP Large White Breeder