Piétrain by Nucléus
The reference of economical efficiency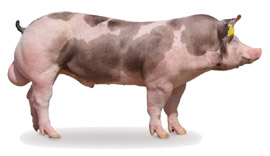 To improve results of my company
Feed efficiency (FCR)
Carcass quality
Kg meat produced kg / sow / year
We strongly focus on legs quality, rusticity and top body shape when selecting boars Piétrain By Nucléus.
KEY POINTS
BOARS PIÉTRAIN
2,09 FCR
18 - 105 kg
1065 g/d ADG
18 - 105 kg
PROUCTION FARM RESULTS
2.29 FCR
18 - 105 kg
805 g/d ADG
18 - 105 kg
DATA
900 GGP Pietrain sows to produce boars Pietrain By Nucléus
620 boars Pietrain By Nucléus enter each year in AIC in France
1.7 million doses sold every year in France
| | |
| --- | --- |
| | PIÉTRAIN BY NUCLÉUS |
| Age at 100 kg | 128 days of life |
| Lean Meat Percentage | 67,8% |
SANITARY STATUS
Breeding farms with air fi ltration systems. Each farm is regularly controlled for major diseases in order to deliver the healthiest animals : free of Micoplasma hyopneumoniae, Actinobacillus pleuropneumoniae, Atrophicans Rhinitis, PRRS.

WHY CHOOSE THE BOAR : PIETRAIN BY NUCLEUS AS TERMINAL BOAR FOR YOUR FARM ?
Managing the performance of your pig farm is more and more difficult and restrictive. It's important to choose a breed that guarantees both good performance and good quality. The last few years have seen the rise of the Piétrain terminal boar, which is considered the benchmark in the field. What are the advantages of this pig breed with Belgium origin ?
The boar Pietrain by Nucleus : unparalleled carcass performances
Carcass quality is one of the main performance indicators for intensive rearing: the aim is to produce a maximum of kg of carcass per sow per year.
The Pietrain is a pig breed that has the undeniable advantage of giving an impressive musculature with very little fat. The fact is that its carcass yield is the best on the market and is much higher than that of the crossed boars.
Optimal feed efficiency for your farm
As for overall food efficiency, the Pietrain also stands out. This pig breed has the advantage of gaining weight quickly and this despite its low appetite : it consumes less while it allows you to benefit from a strong growth potential. To be at 100 kg in 128 days : here's a particularly economical choice !
Production performances of the Pietrain by Nucléus
In terms of production performances, the Pietarin by Nucléus has a feed conversion rate of 2,26 and an average daily gain of 735 g/day. With a Lean meat percentage at 67,8 %, the Pietrain by Nucléus is the one of the best in the field.
At Nucléus, the boars in AI centers are selected on the best combination (ADG x Lean Meat Percentage x FCR). We also selected them on their best individual performances of FCR (More than 3 000 Pietrain Boars are tested each year on this criteria).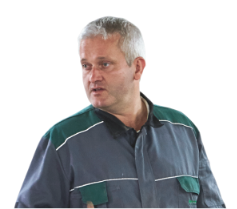 The opinion of a farmer
By choosing the Piétrain By NUCLEUS, I wanted to combine 4 criteria: FCR, growth, LMP and heavy carcasses. I am reaching theses aims: 2.29 FCR (18-105 kg) and 905 g ADG (18-105 Kg), high LMP with 96.1 kg cold carcass weight.
F. Bossard - GAEC des Rosiers - Production farm