The whole day was presented and entertained by the humorist and singer Jordi LP. After that, all the attendees, around 100 people related to the sector, enjoyed a relaxed lunch.
There was one main sponsor, the company Zinpro (dedicated to nutritional supplements for high performance sows) and two secondary sponsors, Magapor (a company dedicated to supplies for insemination centres) and the pig genetics company Nucléus.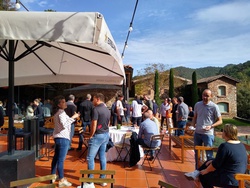 We are proud to collaborate and support our customers' initiatives. We believe that training, communication and synergies in the sector are of vital importance to continue to evolve and grow.
Thank you Genefarm for counting on us to carry out this event and congratulations for the welcome and the impeccable organisation.