Duroc by Nucléus
The Meat Quality Reference
DEVELOP AN EASY FARM MANAGEMENT
Feed efficiency
Piglet Vigor
High sanitary status
We strongly focus on legs quality, rusticity, and top body shape when selecting boars Duroc by NUCLEUS.
KEY POINTS
BOARS DUROC
1150 g/d ADG
30 - 115 kg
PH
color
LIVESTOCK RESULTS
3%
Vigor
survival rate
BREEDING GOALS
> Growth
> Meat Quality
> Intramuscular Fat
> Backfat
> Lean Meat Percentage
SANITARY STATUS
In Duroc selection farms, animals are regularly controlled for major diseases in order to deliver the healthiest animals : free of Mycoplasma Hyopneumoniae, Actinobacillus Pleuropneumoniae, Athrophicans Rhinitis, PRRS.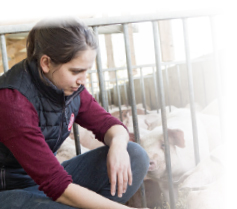 The opinion of a farmer
Using Duroc by Nucleus is the guarantee to produce high quality meat
Our production of heavy pigs enables us to valorize the best of Duroc superior quality meat, both with fresh meat and dry products. Coming from boars Duroc by Nucléus, specially selected on intramuscular fat, our pigs have excellent production results (ADG, FCR, Lean Meat Percentage) and mainly produce optimum meat quality : water holding capacity, colour, pH, intramuscular fat.
Leire Loyatho - Ferme Elizaldia